Bridget Jones is back. After the hugely successful Bridget Jones's Diary, the follow up – Bridget Jones; Edge of Reason suffered the curse of most comedy sequels.
I've always loved Bridget Jone's appartment, the quirky flat full of colour, cosy cushions, slightly mismatched chairs and books everywhere. I always wanted to have the storage shelf she used for her plants, books and other pretty decorations.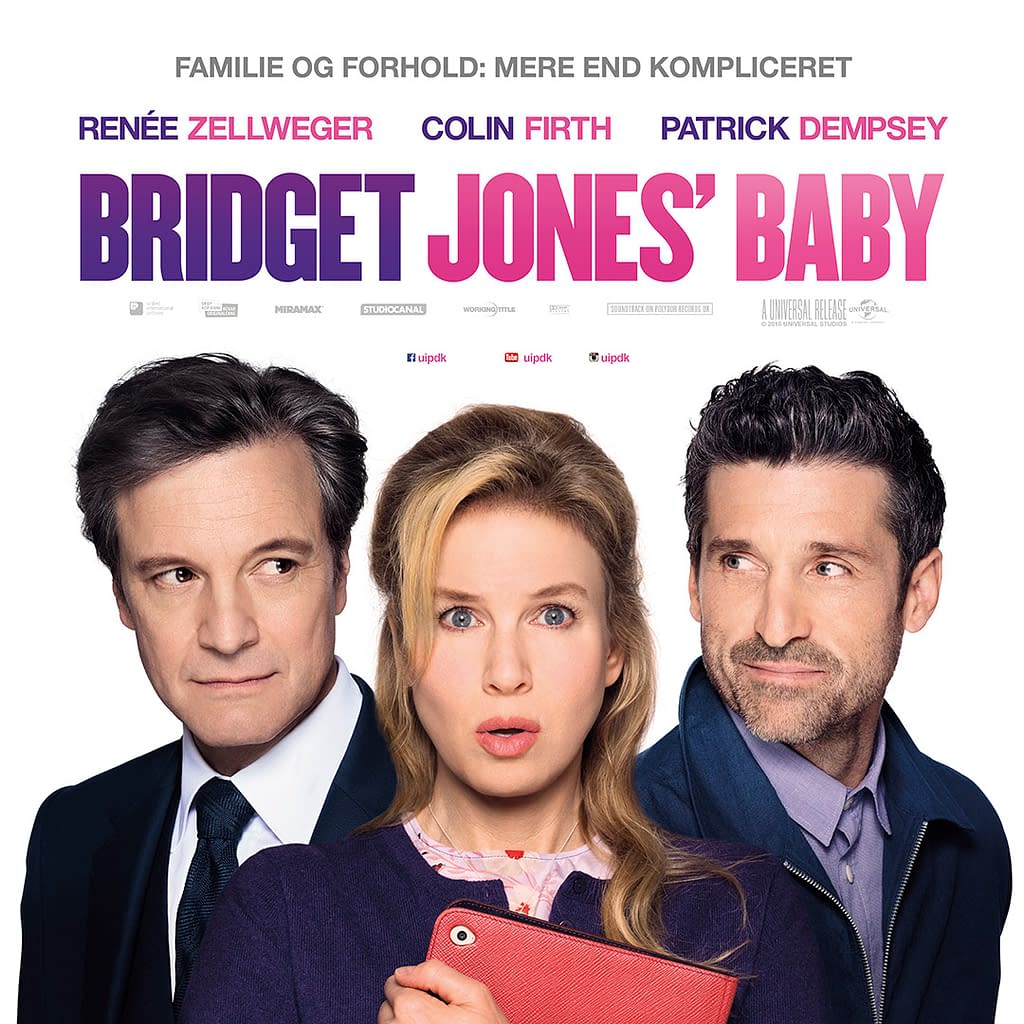 The film was generally reckoned to be only on the edge of comedy at best. So after a twelve year break, dear Bridge is older but is she any wiser or funnier?
Fortunately, the answer is not really and resolutely every now and then. As a character Bridget (Renee Zellweger) is definitely lovable but for whom? We warm to her all too familiar neurosis and quirky mannerisms but who will warm her heart and lead her to the promised land of holy matrimony? Will it be the cool, repressed reserve of old flame Mark Darcy (Colin Firth)? If Bridget still holds a torch for him, it must be down to its dying embers by now.
She first meets up with Mr Darcy again at the funeral service for the missing presumed dead (Hugh Grant). From then on in, it's a bumpy ride as she bumps into him more times than a trip to the dodgems. Love's merry go round gets decidedly more messy (literally) when she encounters charming American millionaire Jack Qwant (Patrick Dempsey) at Glastonbury.
The carousel of confusion is complete when she sleeps with both in quick succession and soon there's a bump not even she can hide for long. Hardly surprising when you consider how accident prone Bridget is, but cue for chaos, jealousy, and laughter in equal measure as the love rivals compete with each other and their own emotions, for her favour.
It would have been perhaps more interesting and less cosily middle class, to have more of a contrast between the two suitors. How about a black lover? Or was that too risky and truly beyond the edge of reason for the real producers? Now that would have really given her social conscious mother (Gemma Jones) something to get uptight about, in the middle of her election campaign to be a parish councillor. And why does it always have to snow when Bridget visits her parents for Christmas?
Although Sally Phillips is back as Shazza, Bridget's best mate, by now married and with kids, for me, the stand out role is played by another British actress, Sarah Solemani. Remember her from TV comedy Him and Her with Russell Tovey? As the news presenter Miranda, to Bridget Jones' producer, she oozes class, professionalism and sexy poise, together with mischievous sense of adventure which all too soon leads Bridget astray.
Indeed some of the best scenes involve the interplay between the two as in when Solemi is being fed duff lines to repeat to startled guests due to Bridget's continual mix ups and mis haps in the production box.
Another British favourite Emma Thompson excels as the taciturn Doctor whose consulting rooms become the theatre of farce as the plot finally gives birth to the identity of the real father. Let's face it, with so many twists and turns, it was hardly likely to be a peaceful pregnancy, now was it? What's the fun in that?
When reviewing a film, it's always worth trying to take step back and note which particular scenes the audience laugh at the most. The extended sequence leading up to Bridget's waters breaking and both Frith and then Dempsey trying to get her to hospital, via a three wheel Italian delivery van and then each carrying her and shoving her through the hospital's revolving doors, elicited a continuous roar of mirth for several minutes.
All in all, it may be largely familiar, predictable comedy territory, but the seeds of laughter are sown thick on the ground for all to see. Bridget Jones is left holding the baby with a loving father, whoever he might be.
We leave entertained, although not at the prospect that there might be a further follow up in the future. Let's leave Bridget to her happiness, for once! What excites me more, is the prospect that after her performance here, sassy, Sarah Solemani might be up for a leading lady role. Producers more savvy than Bridget Jones, please take note…