What happens when a new couple suddenly move in opposite and their attractive looks and glamorous lives appear to be too good to be true?
It's time to spy on the neighbours. A little harmless jealousy soon gives way to intrigue as the well-meaning Gaffneys realise that their too good to be true neighbours are some kind of secret agents. Intrigue then turns into panic when they realise that they are under surveillance themselves.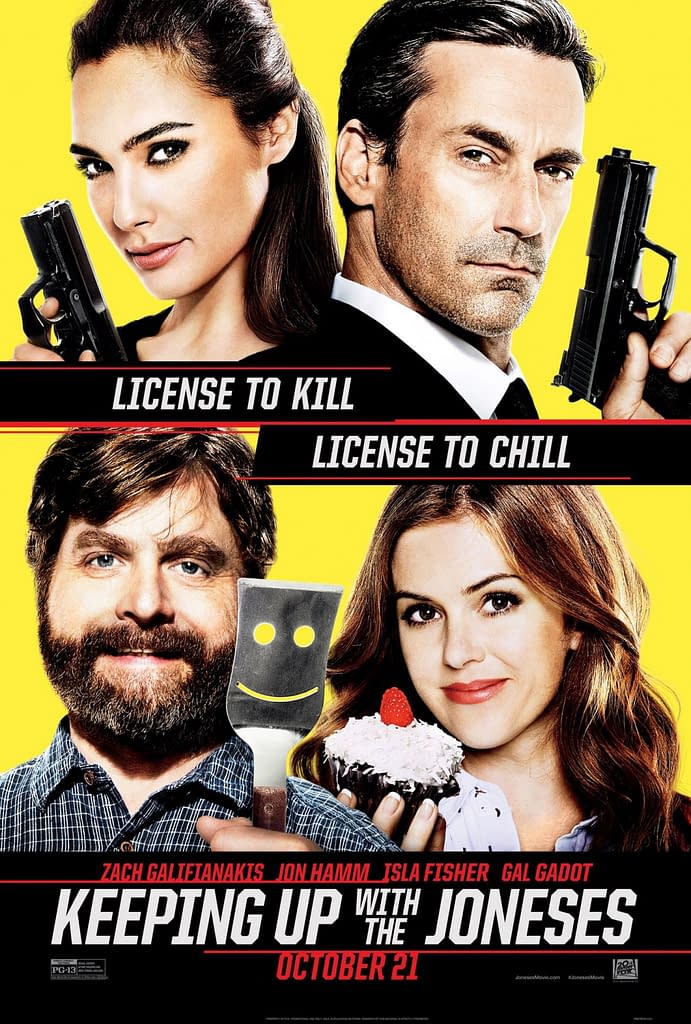 The Gaffneys' fairly ordinary lives are interrupted by the arrival of new neighbours, whose stunning looks are matched only by the worldly sophistication of their lives. Tim Jones (Jon Hamm) is an accomplished travel writer whose hobbies include blowing glass, and his wife, Natalie, (Gal Godot) is a social media consultant, cooking blogger and heroine to Sri Lankan orphans. The Gaffneys (Zach Galifianakis) and Isla Fisher) soon find themselves in the middle of a storm of international espionage that gives them a breathtaking glimpse of life outside their cul-de-sac.
The film has attracted largely negative reviews with critics commenting that the tame script wastes a strong cast with funny situations that are contrived and lightweight.
When humdrum meets high taste, there's a certain humour to be had from social awkwardness and feelings of inadequacy. Alas there's not enough substance to the plot or real mystery to the mix despite Godot's undoubted allure and all action style.
Jeff is the easy going, regular joe who works as a HR Manager at a tech plant and lets pretty much everyone use his computer. He does a nice line in one line philosophy but pretty much everything else goes over his head. Karen is over-awed but curious about her new stunningly beautiful neighbour Natalie and sets out to tail her with comically disastrous results.
The dressing room scene where they meet up with Natalie's long, lacy lingerie contrasting with Karen's fat nickers which she's only picked up as cover for stalking her sexy neighbour is an example of the comic contrasts between the two couples' lifestyles.
Meanwhile Tim is treating Jeff's to exotic food at an authentic Chinese restaurant that he didn't know existed and then plying him with drink and leading questions about his work colleagues.
The Gaffney's suspicions are finally aroused when Karen discovers Tim noising around Jeff's office at a party they host. Natalie plays along with the male egos of Zach's work mates when they invite her to play darts before three bullseyes puts them all firmly in their places.
After accidentally discovering a bug hidden in a piece of glasswork given to them by Tim, they decide to break into the Jones' house to find out more about their mysterious neighbours.
They soon get caught up in car chases and hair raising situations well beyond their usual Friday night down the bar fare as they unwittingly help the secret agents track down industrial espionage at Jeff's workplace.
Zach Galifianakis's comic timing is impeccable and what humour there is comes largely from his deapan reactions to what's going on around him. Isla Fisher also manages to wring out a few wry smiles with her gauche manner in adversity. The scene in which she's crouched on the phone to her children advising them on which sandwiches to eat while being in a high speed chase raised a few chuckles.
Overall, it's enjoyable enough but only amounts to a few set piece situations strung together with a threadbare cul de sac of a plot and all too obvious suspects. Still, on the positive side, Keeping Up with the Joneses is fast and pacey which is hardly surprising as Natalie's lingerie stretches further than the story line.